Workspace Data Persistency (beta release)
You will no longer lose data when your workspace switches to sleep mode.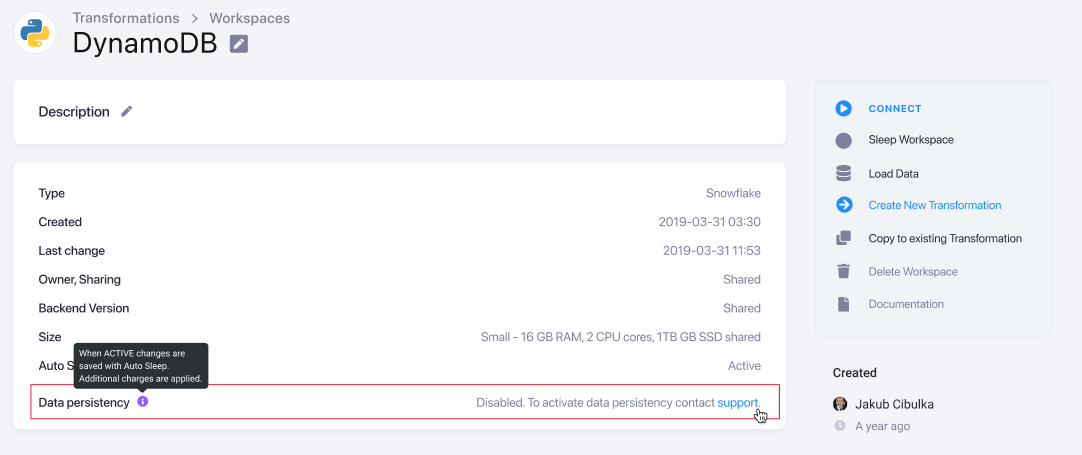 From now on, when you return to work and your workspace is asleep, you can start where you left off without losing data or time by having to import the data again or having to execute scripts to get to the right stage.
How does data persistency work?
Once activated, we will automatically back up all the data in newly created workspaces up to the limits defined by your workspace size. More specifically:
Small (50 GB), medium (100 GB), and large (150 GB)
Everything in the /data folder will be kept
Auto-save (backup) of notebooks is disabled
Input-mapping is performed automatically only once when the workspace is created, not when a workspace resumes
Provisioning of persistent storage takes some time, usually 2-3 minutes after the feature is activated. To prevent workspaces that start in the meantime from becoming broken, we block their start until the storage is ready to be used.
How do you access the data persistency?
This feature can be activated on any non-PAYG project through a support request.
When the feature is activated, persistency will automatically be enabled for every new workspace but won't affect existing workspaces.
When the feature is deactivated, persistency will automatically be disabled for all new workspaces. Previously created workspaces with persistency will still preserve data until the user deletes the workspace itself.
This feature is currently for free in public beta. When it is generally available, additional charges will apply. We will let you know when the change will take effect.