New Outbound IP Addresses for Keboola Connection: Action Required
We are adding new outbound IP addresses for the connection.keboola.com and connection.eu-central-1.keboola.com stacks for Queue V2.
This update is important for Keboola Connection customers. It may affect their ability to connect to their resources, particularly if they are behind a firewall.
What are outbound IP addresses?
Outbound IP addresses are unique addresses assigned to a device for the purpose of identifying it and sending information over the Internet. When Keboola Connection customers connect to their resources (typically databases), those resources are usually behind a firewall. In order for Keboola Connection to connect to those resources, customers whitelist our outbound IP addresses.
What do I need to do?
If your resources are behind a firewall, ensure that all the new IP addresses are added to the whitelist, so as to enable connection to your system through Keboola Connection.

Use the "Test with new outbound IPs" feature to check the connectivity for any or all configurations in the credentials section. This will verify that your resources are accessible from the new addresses.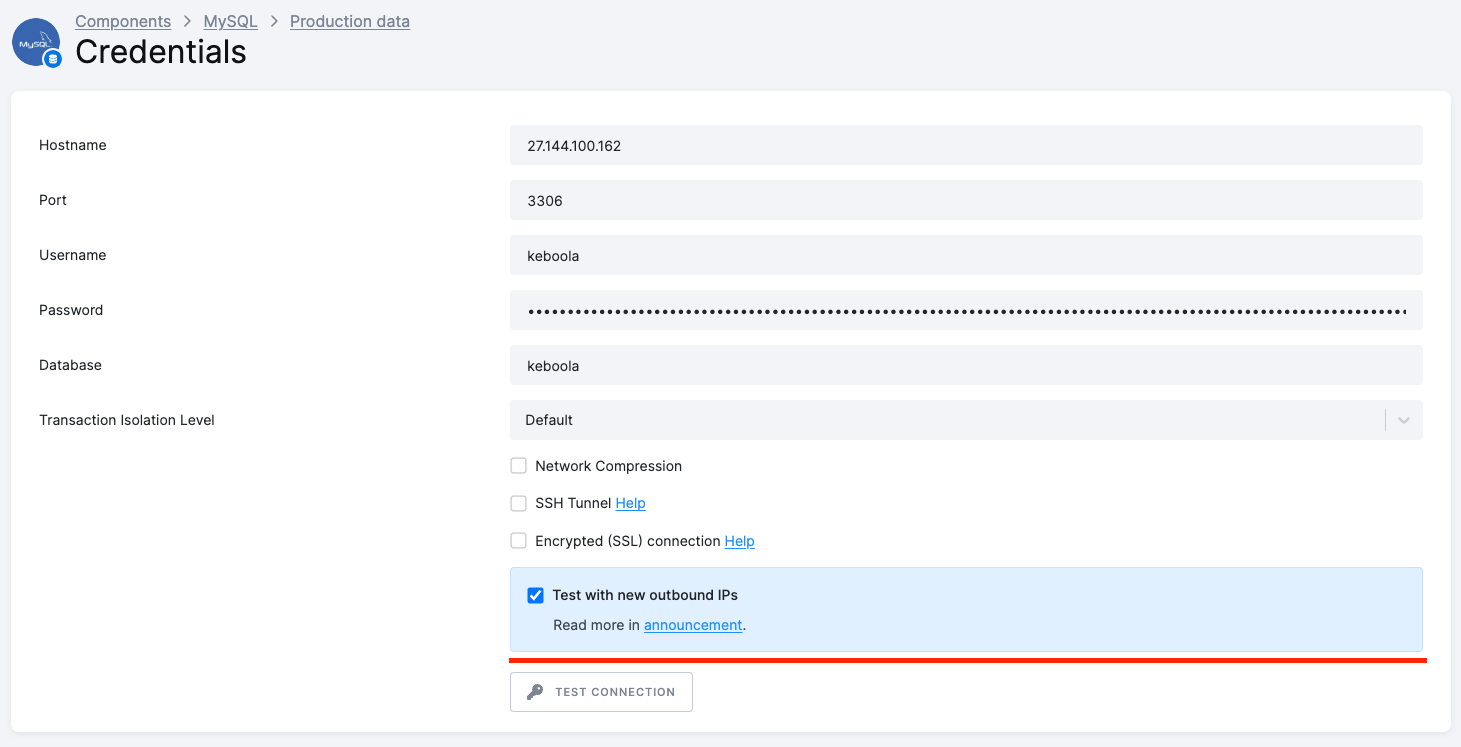 If the connection works well, switch the project to the new IP addresses. In the event of problems, you can temporarily revert to your original IP address and contact our support team for assistance.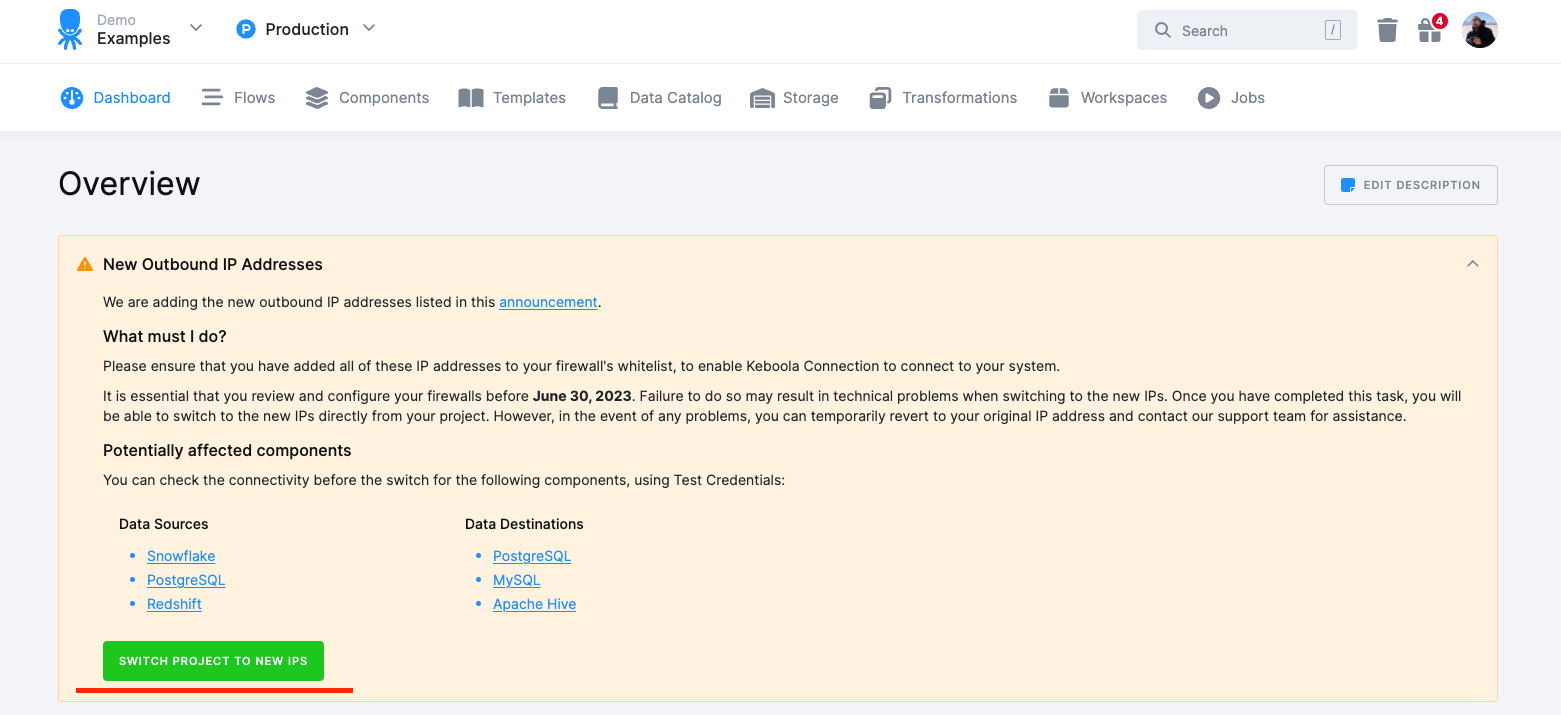 If you have multiple projects in your organization and have already tested the connection from the new IP addresses, you can ask our support team for help. They can switch all your projects at once, so you don't have to do it individually for each one.
If you are not yet making use of Queue V2 for your projects, don't hesitate to whitelist, as this will speed up your migration to the new queue in the future.
By when do I need to do it?
To ensure uninterrupted connectivity, the new IP addresses must be whitelisted by June 30, 2023. Otherwise, you run the risk of your connection not working. If the above update is not done manually by this date, Keboola Connection will perform the switch globally. To make sure of a smooth change, please add the new IP addresses to your whitelist and switch your projects as soon as you can.
Current list of outbound IP addresses
connection.keboola.com
Queue V2

52.7.83.136
52.20.72.254
3.222.3.15 (new)
34.206.78.206 (new)
3.213.250.110 (new)
107.22.113.103 (new)
54.144.9.113 (new)
54.204.61.145 (new)
34.239.7.70 (new)
3.217.232.144 (new)

Email delivery
Queue V1 - legacy syrup services

34.224.0.188
34.200.169.177
52.206.109.126
34.203.87.137
connection.eu-central-1.keboola.com
Queue V2

3.66.248.180
3.64.150.30
35.157.62.225 (new)
3.71.156.204 (new)
3.74.28.187 (new)
18.158.155.128 (new)
35.157.208.189 (new)
3.72.243.47 (new)
18.193.225.37 (new)
3.127.158.56 (new)

Email delivery
Queue V1 - legacy syrup services

35.157.170.229
35.157.93.175
For your convenience, you can programmatically fetch and process the list of existing IP addresses in JSON format. Read more about outbound IP addresses in documentation.
We appreciate your cooperation in making this transition as smooth as possible.